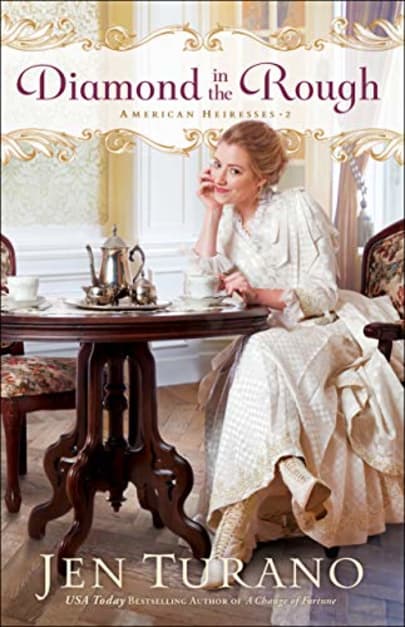 ABOUT THE BOOK:
To save her family from financial ruin, Miss Poppy Garrison accepts an unusual proposition to participate in the New York social season in exchange for her grandmother settling a family loan that has unexpectedly come due. Ill-equipped to handle the intricacies of mingling within the New York Four Hundred, Poppy becomes embroiled in one hilarious fiasco after another, doomed to suffer a grand societal failure instead of being deemed the diamond of the first water her grandmother longs for her to become.
Reginald Blackburn, second son of a duke, has been forced to travel to America to help his cousin, Charles Wynn, Earl of Lonsdale, find an American heiress to wed in order to shore up his family estate that is in desperate need of funds. Reginald himself has no interest in finding an heiress to marry, but when Poppy's grandmother asks him to give etiquette lessons to Poppy, he swiftly discovers he may be in for much more than he bargained for.
ABOUT THE AUTHOR
Named
One of the Funniest Voices in Inspirational Romance
by Booklist, Jen Turano is a USA Today Best-Selling Author, known for penning quirky historical romances set in the Gilded Age. Her books have earned Publisher Weekly and Booklist starred reviews, top picks from Romantic Times, and praise from Library Journal. She's been a finalist twice for the RT Reviewers' Choice Awards and had two of her books listed in the top 100 romances of the past decade from Booklist.
When she's not writing, she spends her time outside of Denver, CO.
MY THOUGHTS
This is book 2 in the American Heiresses series - You do not need to have read book one (Flights of Fancy) to know what is going on. Poppy has got to be one of my most favorite characters that the author has created. She had me laughing from the beginning. My heart went out to her. I am a klutz and through no fault of my own - end up making a fool of myself pretty reguarly. When Poppy falls into financial difficulties - her grandmother agrees to help her out - but she must be presented into the New York society. Which proves to be disasterous. (Comical but disaserous) Her grandma enlists the help of Reginald Blackburn. He is enlisted to teach her proper etiquette. He is second son to a duke - and is visiting the United States. They get off to a rough start - but they become in tune and comical. I always love the setting that the author writes in - she is so knowledgable of it. If you enjoye humor, sweet romance and a light read - this book is for you.
I received a copy of the book through the author - all thoughts are my own.